Welcome to Marmalade Boy Wiki.
The Wiki that anyone can edit.
Please look over our policies before editing.
We are currently editing over 71 articles, and 146 files since September 23, 2010.
Welcome to Marmalade Boy Wiki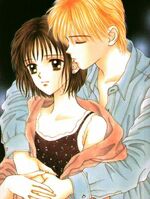 Don't know anything about how to edit? Here are some guides that can be helpful for you: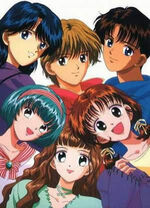 Don't know how to help or improve this wiki? Here are some links that can guide you:
Here at Marmalade Boy Wiki we have some rules for the users behavior and edits. Follow this small list of rules and you will have a great time here:
Foul language is not allowed under any circumstances.
Illegal content is forbidden on the Wiki.
Vandalism will result in an immediate and one week ban.
All of the pages should include real, factual content.
If the edits you make do not provide anything to the wiki, you'll be warned.
If you continue with those edits, you'll be banned.
About Marmalade Boy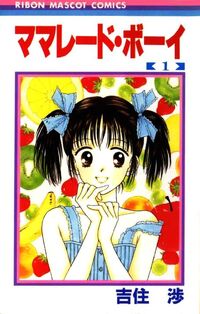 Marmalade Boy (ママレード·ボーイ Mamarēdo Bōi) is a Japanese shōjo manga written and illustrated by Wataru Yoshizumi. It was serialized in the magazine, Ribon from May 1992 to October 1995, and published by Shueisha into eight volumes. Tokyopop previously published the manga in North America.
An anime adaptation was released in 1994 and followed by a short prequel film and artbook. Marmalade Boy was later adapted into a television drama in Taiwan and a video game.
The story centers around Miki Koishikawa, who falls in love with Yuu Matsuura, after their parents divorce and swap partners. Currently Yoshizumi is writing a sequel titled, Marmalade Boy Little, which is set thirteen years after the original story. The manga focuses primarily on Miki and Yuu's brother and sister, Rikka Matsuura and Hajime Koishikawa. Read more...
Characters
How to help
All pages can be edited and you are welcome to join us and contribute to this wiki. Everyone is free to create a new page or edit an existing one. If you have any questions about the wiki or helping out, you can ask one of Marmalade Boy Wiki's administrators.
If you are new to wikis, you may want to read the help page.
A list of all help pages can be found in .
If you want to help but you're not sure where to start, try improving the various articles by expanding them.
Another helpful activity would be to check the list of wanted pages for frequently linked-to articles that don't exist yet.
You can find a list of useful templates on .
If you want to experiment with editing a wiki, please do it in a sandbox, not in articles.
News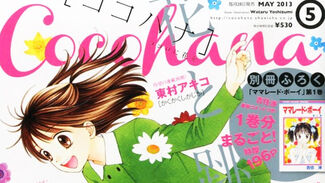 Featured character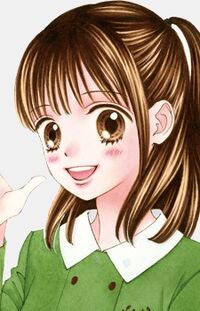 Rikka Matsuura is the heroine of Marmalade Boy's sequel. She is the daughter of Youji and Rumi Matsuura and the half-sister of Miki Koishikawa and Yuu Matsuura.
More details are coming soon!
Poll
Are you excited for the sequel?